Dante Alighieri Exhibition
Peccioli is currently hosting at the palazzo a project conceived by SCART* in collaboration with the Academies of Fine Arts of Florence, Ravenna and Carrara and the Community of San Patrignano. The project, "Dante and the Divine Comedy", uses the concept of Trash Art and the inspiration of Dante's masterwork to show that rubbish can be recycled into something beautiful and worthwhile.
"Dante and the Divine Comedy" also marks the 700th anniversary of the death of the great poet. The project proposes a challenge to the students of the three Academies, inviting them to interpret the 100 cantos of the Divine Comedy using the modern techniques of Trash Art.
Plastic scraps and strips of leather, hinges, buttons, metal accessories and glass are just some of the recycled materials through which Dante's works have been reinterpreted. Taking inspiration from the engravings of Gustave Dorè, the nineteenth century French artist famous for his wood prints of the Divine Comedy, six large works – eight foot high and four foot wide – have been created to illustrate the cantos describing Hell, Purgatory and Paradise.
Also on show are six sculptures representing the head of Dante. All of these works copy in form the "Monument to Dante" sculpted by Enrico Pazzi and displayed in Piazza Santa Croce in Florence. Each of the three Academies interpreted the work using different styles and techniques reflecting their own differing academic and artistic aspirations: from Ravenna there was a focus on the historic importance of mosaic working, from Carrara an acknowledgement of a heritage of marble sculpting and from Florence a POP art influence.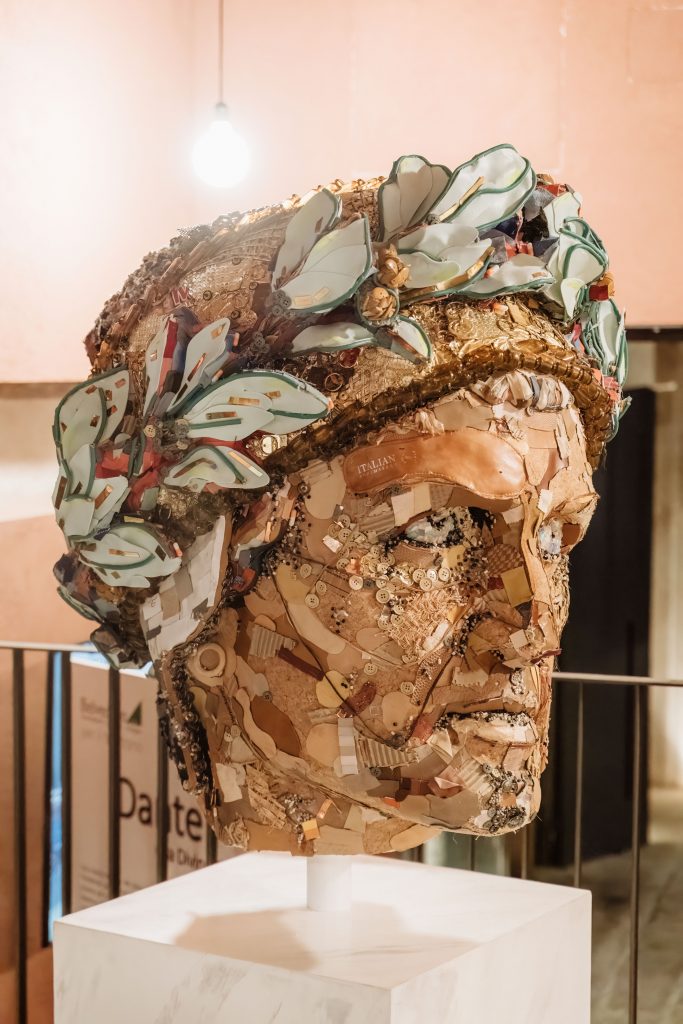 The use of recycled materials helps to promote an important message about the circular economy. SCART and its young artists have produced something amazing and succeeded in giving shape and form to the extraordinary world imagined by Dante.
The project also featured a collaboration between SCART and the Community of San Patrignano, a drug rehabilitation charity. The Community was entrusted with the production of three heads of Dante and, working with great professionalism, it has produced an artistic interpretation that communicates a strong message. The results are tangible, visible at first glance. Those motionless heads, that slightly lost look that Dante displays, leave multiple interpretations for visitor to reflect upon. One can read in those eyes a desire to do well, a passion, a determination, the same things that, on a daily basis, carry forward the work of the Community.
So here is another emotional gift from SCART which, after 22 years of seeking beauty amongst the garbage, continues to amaze, communicate and raise awareness