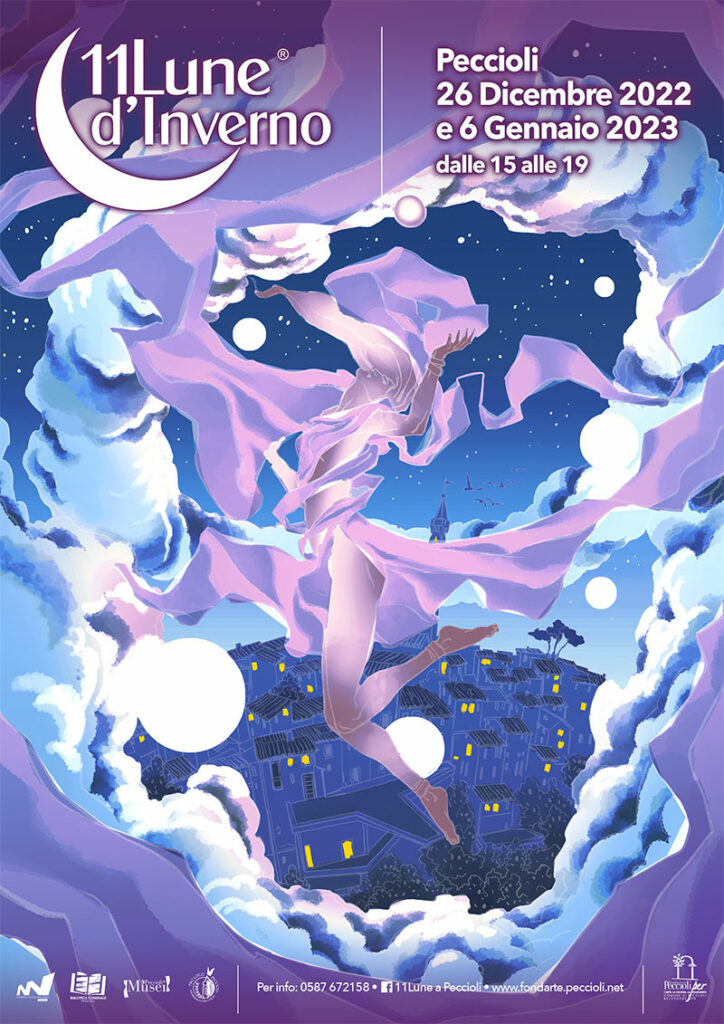 After the cancellation, due to covid, of the last edition, "11Lune d'Inverno" is back in attendance. On Monday 26 December and Friday 6 January, a long series of events dedicated and designed for children and families will kick off the ninth edition of "11Lune d'Inverno".
Many initiatives have been organised. The afternoon will be enlivened by street performances, workshops, educational play activities inside the Museums, readings at the Municipal Library, an artisan market, readings, stories and snacks in the various commercial activities.
There are two important innovations that characterize the 2022/2023 edition: Palazzo Senza Tempo will host some shows and workshops of the event, and the walkway in Via Mazzini, with the work Endless Sunset by Patrick Tuttofuoco, will become the stage for the first time for a area fabric show and stunts. Also this year we will see Marco Martinelli among the protagonists again with his show between chemistry and music, Marco Martinelli in fact has been divided between science and entertainment since he was a child, and in recent years his project is to create a synthesis of these two worlds he has inside.
The collaboration with the Giovanni Boccaccio National Body of Certaldo is new, which will propose a theatrical show inspired by some short stories taken from the Decameron. Collaborations with important artistic realities of national importance have been confirmed, including ArtCityLab, a non-profit organization whose purpose is to involve citizens and make them part of the process of creating a work that reflects a contemporary identity, and the Training School of actor – Florence's Oltrarno directed by Pierfrancesco Favino, which will involve young and old in a workshop between singing and theatre.
Like every year, the Accademia Musicale Alta Valdera offers two workshops, one on the world of Disney, and one dedicated to cartoons taken from the book "Il Castello delle note", translated into English and Spanish during the lockdown. New in the context of 11Lune d'Inverno is the collaboration with Tagete Edizioni, and the participation of Aziz Fuad, one of the most interesting artists on the Florentine scene. In addition, numerous local associations have collaborated on the 11Lune d'Inverno program by proposing interesting activities, the Peccioli Philharmonic, Mondobimbi onlus, the historic archers of Peccioli, the Alta Valdera amateur astronomers' association, the Pro Loco, the Peccioli merchants, the Noi per Voi Association. An entire community has set to work to offer children of all ages two afternoons of timeless fun and entertainment. For the 2022/2023 edition, participants of 11Lune d'Inverno will receive a magnetic card and a special gadget.