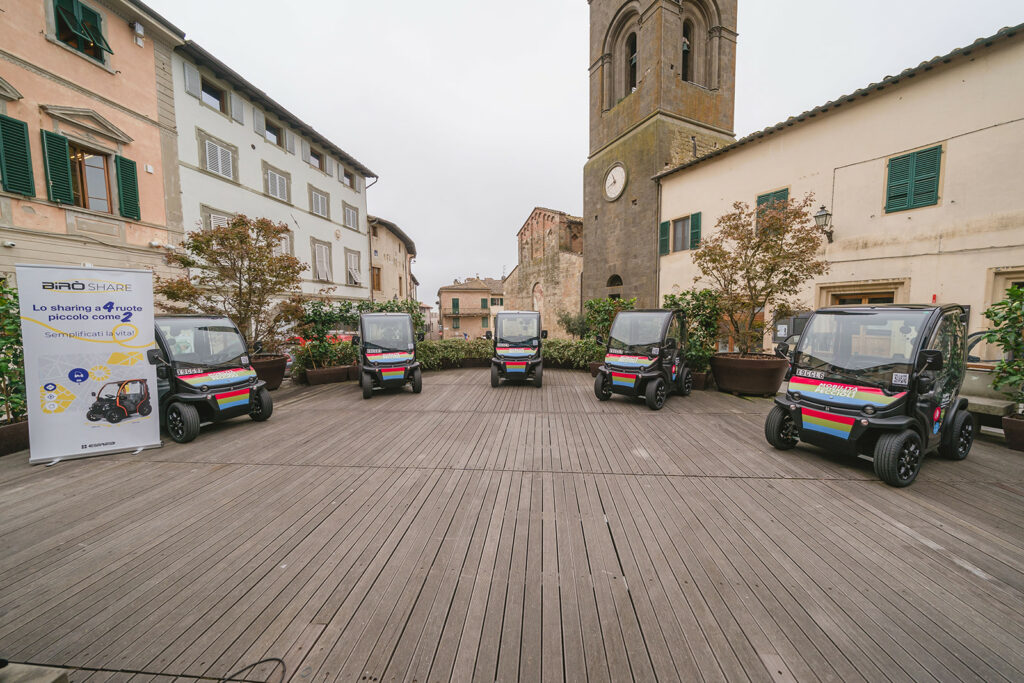 Sustainable Mobility
Car sharing Service
A new era of sustainable mobility
The electric vehicles Birò are finally in Peccioli and relaunch a sustainable mobility project initiated by the Municipality and by Belvedere in 2021.
A Birò is a very small four-wheel electric vehicle produced by Estrima S.p.A., which was awarded a tender for the management of a car sharing service through its subsidiary Sharbie srl.
The Municipality of Peccioli makes a fleet of 12 Biròs available to tourists and residents for car sharing.
To use the service, you need to download the Birò Share APP (from the Play Store for Android or from the App Store for IOS) or scan the QR Code below (which is also on all Biròs).
Once the App is installed, you need to register by entering all the data that are requested; at the end of the operation, you will have to wait to be enabled for the service.
Through geolocation, the APP will show you which Biròs are available in town and once your vehicle is identified, you just need to follow the instructions provided by the APP to activate a rental.
At the end of the rental, the Birò must be left in the area indicated in green on the map of the APP, which corresponds to the old town of Peccioli.
RATES
RESIDENTS OF THE MINICIPALITY OF PECCIOLI
– free service for the first 2 hours of rental;
– Euro 1.00/hour from the 3rd to the 8th hour of rental;
– Euro 5.00/hour from the 9th hour of rental.
NON-RESIDENTS OF THE MUNICIPALITY OF PECCIOLI
– – Euro 3.00/hour up to the 8th hour of rental;
– – Euro 5.00/hour from the 9th hour of rental.