The nature trail goes through the part of the wood that surrounds the farm unit of Ortaglia, within the grounds of the estate. These places tell the story of a very long and harmonious coexistence between man and nature: the Etruscans settled here, as proven by the archaeological excavations of the tomb of Ortaglia.
Today, numerous species of wild animals live in the woods and it is easy to recognize their traces impressed on the soft ground of the paths. Roe deer are numerous and it is not difficult to spot them, as well as wild boars, even in broad daylight. There are also small animals such as foxes and stone martens, which leave their lairs at night to hunt. The wood is also home to common squirrels, porcupines, badgers, hedgehogs and it is also easy to find the characteristic footprints left by hares. Along the pathway, special signage will show you the footprints of the various animals so that it is easier for you to recognize them on the ground.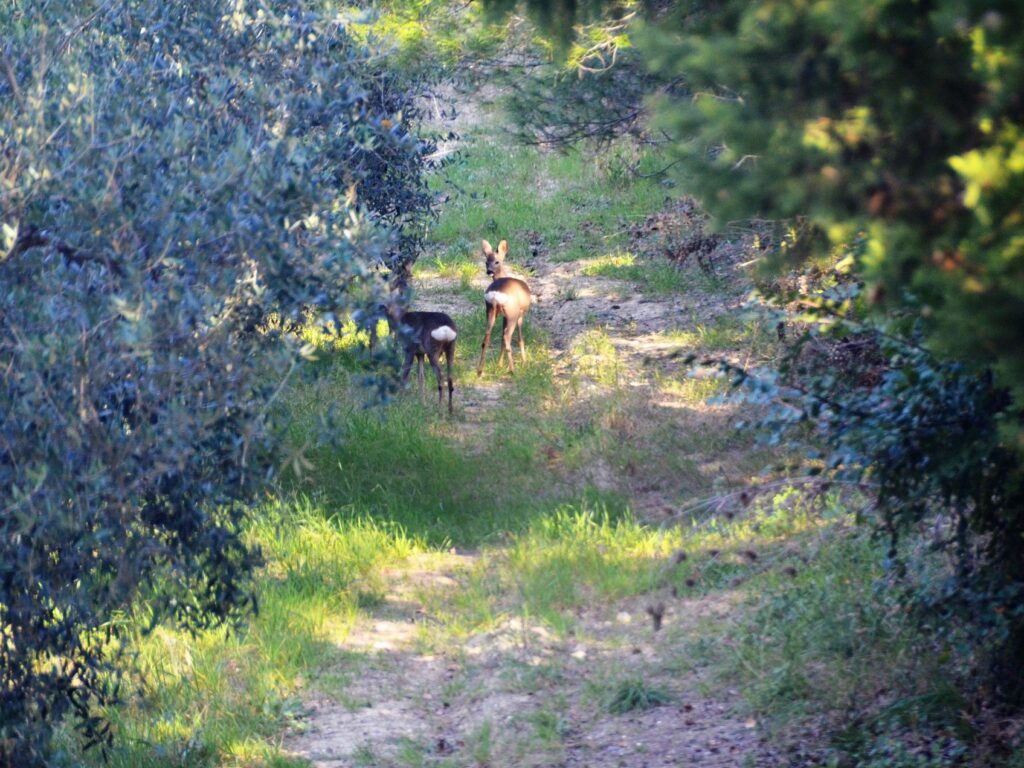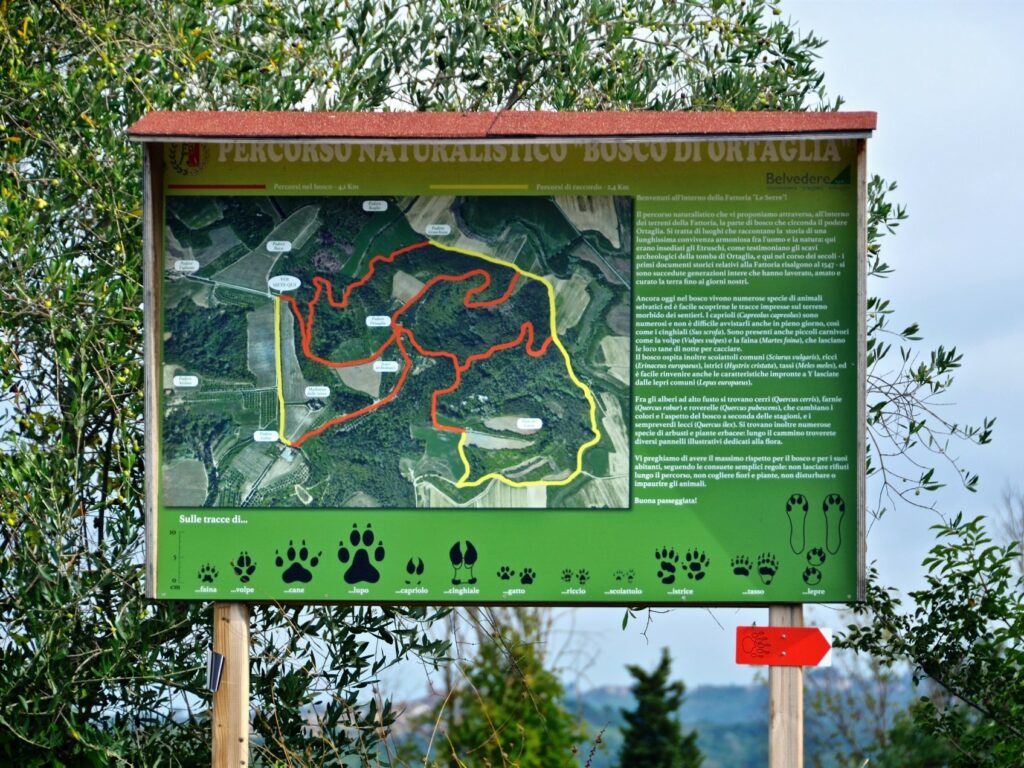 Short but interesting, this is a link that connects route 1 to route 3. From the top of the hill of Le Serre you pass through a countryside devoid of buildings at the base of the wooded hill of Pratello and Libbiano, inhabited by some roe deer, which often come out of the underwood. Between the two summits are the streams Filetto and Roglio, flanked by tall poplar trees; this stretch is certainly challenging during periods of heavy rain.
The paths of the Municipality of Peccioli, pleasant and varied, through a territory of dirt roads, agricultural paths, ancient cobblestone ways, almost all uninhabited.
The paths twist and turn through a succession of streams, woods and vast countryside characterized by a varied vegetation of cypresses, poplar trees and brooms. The woods of various features, from which the paths branch off, offer visitors historical, artistic and cultural evidence of great importance. The landscape variety provides satisfaction to enthusiasts of various sports such as mountain biking, horse riding and hiking. Even nature lovers will find a relaxing environment in the area around Peccioli.
PLACE OF DEPARTURE: La Buca
LENGTH: 5.6 Km
MAXIMUM ALTITUDE REACHED: Ortaglia, 163 m
LEVEL OF DIFFICULTY: medium / easy
TRAIL SIGNAGE: vertical and horizontal (white and red)
PATH FOCUS: naturalistic
RECOMMENDED PERIOD: always (demanding in the rainy season) N.B. Follow the path with extreme caution during the hunting season